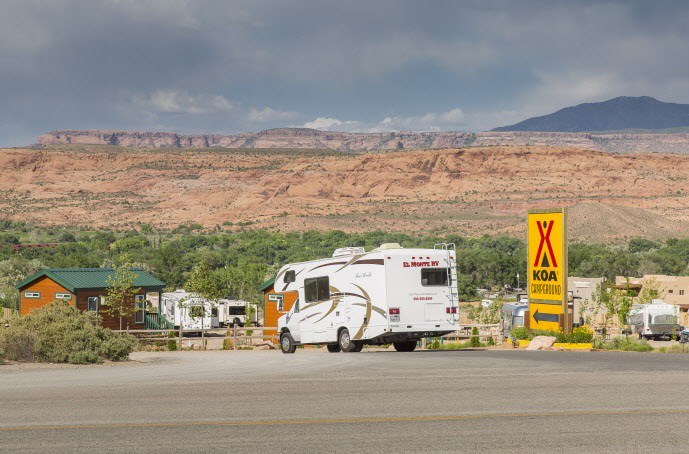 Have you ever rented an RV? Here is some sound advice and tips on RV Rental! Read about where to rent an RV, different types of RV's & extras!
Been dreaming of taking a trip on the open road?
Imaging this, you, behind the wheel of an RV with the wide open road in front of you..
Can you dream of all the incredible sights you could see traveling in an RV?
We get it, your not quite ready to take the plunge and purchase an RV?
If these are some of your thoughts, then we've got the perfect solution: an RV rental.
With an RV Rental you get the best of all worlds — you get to see all the sights your heart desires and you get to enjoy the comforts of a big RV, without committing to the responsibilities and high price tag that comes with purchasing an RV.
Before you start shopping online to find the nearest RV rental, read through our tips for renting the king of all road vehicles. Renting an RV may not be as simple or as complex as it may seem, and that's where we come in.
RVRentals.co is here to make your RV rental as smooth and easy as possible so that you can get out there and enjoy your dream vacation!
TIP #1: Know the Different Makes & Models
Similar to cars, RV's are manufactured in different styles. Each one offers different features, and you will want to know what features you desire to determine what is the best fit for your needs. Here are the most common types of RVs:
Class C Cabover – This RV has a van cab with an attached motorhome. Class C RVs typically have a bedroom, bathroom, and kitchen that can be converted into sleeping quarters. Not quite as big as other classes of RVs, the Class C Cabover can comfortably accommodate five people and is fairly easy to manage.
Class A Motorhome – This type is the largest of the motorhome family. With this, you will traveling and camping in luxury. With more room than other RVs, you can easily live in this motorhome. But keep in mind that with its more luxurious and roomy accommodations comes a bigger rig that is more difficult to drive.
Fifth Wheel Camper – This pull-behind RV requires a fifth wheel hitch that is mounted in the bed of your truck. Fifth wheel campers have two full-sized beds and bunks, and also offer a kitchen, bathroom, and dinette.
Towable Travel Trailer – You also can rent an RV that you tow behind your truck, as opposed to drive. These trailers have kitchens, bathrooms, and sleeping areas typically fit for four or five people.
Teardrop
Toy Hauler
Class B
TIP #2: Find a Reputable Business to Rent an RV
With RVRentals.co, you will be able to find the top RV rentals in every state in the U.S. Our services directory will also provide you with information about great RV dealers, just in case you turn in your rental RV ready to buy one of your very own.
TIP #3: RV Rental Insurance & Deposits
When renting an RV, you will need to put down a security deposit, and perhaps a reservation deposit. Some rv rental businesses will require a deposit upon making your reservation. This money that is used to hold your reservation is typically applied to the final cost of your rental.
The other type of deposit, a security deposit, is something you will encounter with nearly every RV rental service. This payment is refundable, so long as you return the RV undamaged at the completion of your trip.
As for insurance, it is not optional when renting an RV. Some rental companies may provide the insurance (tack on the extra fee). If the rental service does not offer insurance, you are required to get it on your own. The best way is to try your current car insurance provider.
TIP #4: RV Rental Rates will Vary
Just like other modes of transportation, rental rates for an RV will go up during peak seasons. Like a rental car, you will pay a daily rate for your RV rental. And the bigger the RV, the more expensive your daily rate will be. However, check for rental specials and deals, as sometimes rental companies will offer those.
In addition to your daily rate, you may be charged for each mile that you travel in your rental RV. Try to have you trip somewhat planned out ahead of time so you know what to expect when the rental company gives you their price per mile.
Now that you've got your RV . . .
 TIP #5: REMEMBER, RV's are like driving a fully loaded extended Uhaul
If you're used to driving down the road in a small car, or even an SUV, you have likely experienced driving with gusts of wind that move your car around a bit.
However, with an RV, there is no such thing as moving around "a little." Gusts of wind, or a semi truck passing by will feel like your RV is about to set sail into the ditch to your right.
Do what you can to travel at a speed that doesn't put you at a high risk for being blown into another car.
Since RVs do not require a special driver's license to operate, prepare to learn the ins and outs of driving the RV before taking it out on the open road.
Consider practicing on roads and highways that are already familiar to you
TIP #6: Stopping… More Like Slowing down a Train
You know how sometimes you may be a little distracted while driving (ahem, texting while driving) and find yourself slamming on the brakes?
Well, in an RV there really isn't such a thing as slamming on the brakes.
Because the vehicle is so massive, it is like a train – you've got to plan your stop before you actually make it. Thus, it is best to keep an extra safe distance between you and the car in front of you, should you need to come to a quick stop.
Also, when you turn, make sure you take the turn slowly — extra slowly. RVs can (and will!) tip over if you take a tight turn too sharply. And we know you don't want to test gravity with this big of a vehicle.
TIP #7: You thought parallel parking was hard?
Are you proud that you've finally mastered parallel parking in your car? Well, with an RV, you've got a whole 'nother level of challenge waiting for you in the form of just standard parking.
First, keep in mind that not all places can even accommodate the size of an RV. Want to drive into town to have dinner at your favorite restaurant? Make sure you call ahead to see if they have somewhere you can park.
And if you are able to find a place to park, be sure it's on level ground. There are certain things in the RV (such as the refrigerator) that won't run properly if at a tilt.
TIP #8: #CamperLife | Be Prepared to Get Dirty
The not-so-glamorous part of renting an RV is emptying the toilets. As there is no way to avoid this (unless you want to deal with the horrors of backed up and overflowing toilets, and likely some serious rental RV damage costs), go into the dumping of your excrement with some knowledge.
The most important part is to use surgical gloves at all times. Feces have touched every part of the dumping station and you do not want those germs. Also, you probably will want to hold your breath — otherwise you may find yourself adding to the dumping in the form of vomit. Talk about a s#1t% job
TIP #9: Gas mileage isn't the best, conserve where possible
You likely are already aware of this, but plan ahead of time to be spending a fair amount of money on gas in your rental RV. The average RV gets between 8 and 10 miles per gallon, so estimate your gasoline costs ahead of time to avoid any surprises.
TIP #10: You Have a Refrigerator on board- Plan some Dinners
A great thing about an RV is the money (and health sacrifices) you save by cooking rather than eating out. With your rental, you can keep the fridge and cupboards stocked with snacks and foods to cook some delicious meals!
You may find yourself stopping to grab some road food once in awhile, but will surely love the option of a home-cooked meal while on the road.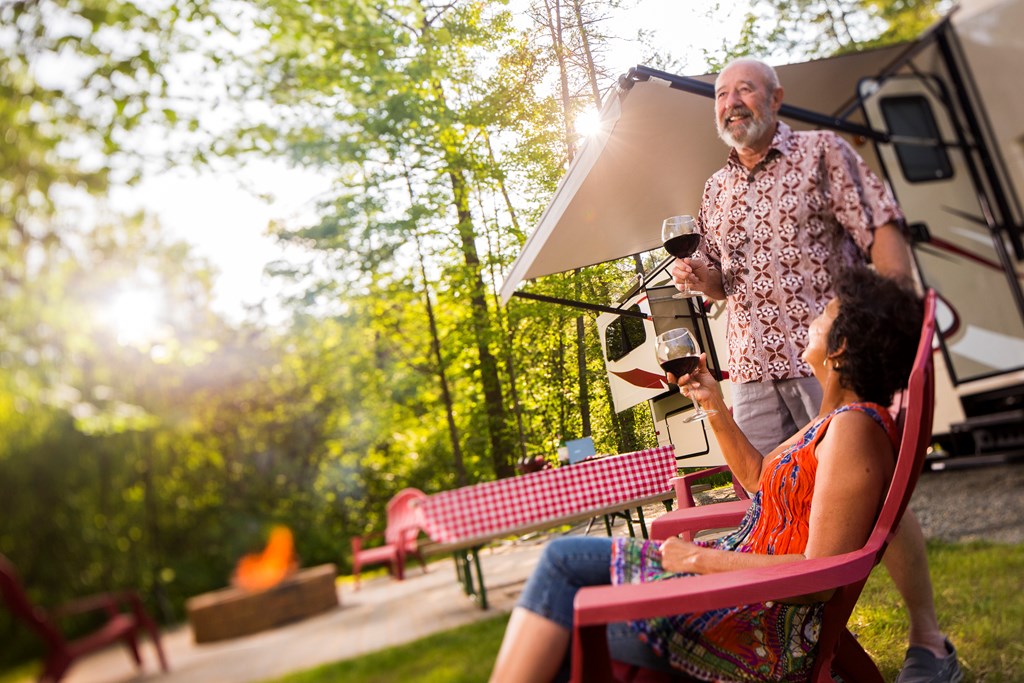 The Benefits Of RV Rentals
There are so many benefits to renting an an RV, but we are going to share just a couple major ones with you here:
Test an RV Rental
If you're looking to purchase an RV, but just aren't quite ready to make a full commitment, renting is your answer. What better way to learn more about a future investment than to take it for a test run?
Always a Great Family Vacation
You will find that having that family time is priceless. Being able to enjoy both the journey and the destination with your family is something you really can't do with other forms of transportation. The comforts of an RV will allow you to enjoy each other's company, rather than feel stuck in a tiny car together.
Experience Breathtaking Accommodations
With thousands of RV Parks, Campgrounds, and RV Resorts spread all across the United States and Canada, in your rental RV you will have the opportunity to experience stays at some of the country's top campsites. To see what special campgrounds and accommodations are available along your route, check out these amazing RV camping resources: RVParks.Directory and RV Parks Near Me.
Feeling fully prepared to find yourself that perfect rental RV and get out on the road?
We do too.
There is a big world out there for you to explore, so follow the steps above and get started on the RV rental process today so that you can see what that fabulous RV life is all about!